The Problems:
Low Morale?
Service Complaints?
Poor Labor Relations?
Decreased Sales?

The Solution:
Morale Building
Training Seminars
Your Training Partner
"Professor Service"
*Ian B. Maksik, "Professor of Service", is America's "Service Guru".
*He's Available to Train Your Staff in The Art & Science of Table Service.
*He'll Help to Turn Your Staff's Service Sins into Service Solutions.
*He's Available as Lecturer, Keynote Speaker, Seminar Leader & Motivator.
*He's Received the Highest Ratings for his Train-the-Trainer "ABC's of American Service Standards"
and his  "A to Z's of Table Service" Seminars at Six International Hotel & Lodging Shows, CaterSource, NCA, NACE, Sysco and Libbey Conferences.
 (See some of the audience comments *)
*He'll be Training the Hospitality Associates of Salt Lake City to Help Make America Shine in the Field of Hospitality in the 2002 Winter Olympic Games.
Ian's seminars are not only informative but hilarious. He calls his style "Enter-Trainment"!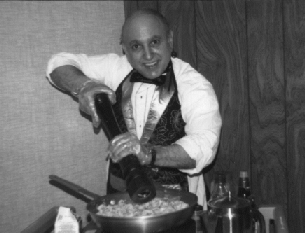 Ian Maksik, "Professor of Service" Profile
Ian Maksik comes from a showbiz background, having owned and operated the world's largest nightclub, The Town & Country Club in Brooklyn.  He is the former Catering Editor of CUE (New YorkMagazine).
Ian's been responsible for coordinating over 17,000 weddings and thousands of high-profile events.  Bill Boggs, former host of TV's "Midday Live" dubbed Ian the "King of the Caterers".  Ian 's coordinated Events in planes, trains, bridges, caves and aircraft carriers.  He has gone from submarines to mountaintops in his search for the most unique and unusual venues.  Ian is a Cornell Hotel School graduate who constantly fine-tunes and upgrades his knowledge by being active in many industry-related organizations.   and associations.
In keeping in tune with the technical future of Service, Ian helped design a Wireless POS System called "e-SavvyServer". It uniquely prompts and trains Servers in Sales & Service Techniques.  He founded "Project Waiter Inc." a non-profit corporation devoted to training the unemployed and placing them in food-service jobs.  While working as a professional opener for the hospitality industry, a hotel general manager and restaurateur, Ian perfected his training skills.  Although his background makes him a scintillating guest speaker on many related topics, it's his Radio-show "Hospitality" that now peaks his interest. He looks forward to bringing his knowledge and expertise to this weekly radio show format.  But don't wait to listen to Ian on radio, book him now as a lecturer, keynote speaker and/or trainer to help solve your service and morale problems.
Or e-mail him for advice at ian@usawaiter.com