WORK YOUR WAY THROUGH COLLEGE AS A WAITER (m/f)
JOIN AMERICA'S 6th LARGEST GROWING PROFESSION
<![if !supportEmptyParas]> <![endif]>
LEARN THE ART & SCIENCE OF TABLE SERVICE, BECOME CERTIFIED & EARN MORE.
<![if !supportEmptyParas]> <![endif]>
ONE DAY TO A NEW CAREER IN SERVICE – The College Tour
Use This Training As Something To Fall Back On For The Rest of One's Life
or To Simply Help During Hard Times or to Finance Primary Career Goals
<![if !supportEmptyParas]> <![endif]>
There are close to three million full-time Waiters (m/f) in America and millions more who are either part-time Waiters or have been Waiters at one time of another.  This exciting profession can be fun and offers immediate cash flow and flexible work schedule.  There are 650,000 Hospitality Jobs available in this country annually.  Join our industry! 
Learn to Earn your way through College as a
Waiter (m/f).
Have your Development Dept. Partner with "Professor Service" for a Day of Training.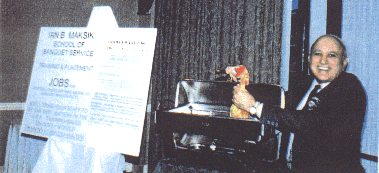 Service is an Art and Science. To serve correctly requires sit-down training like any other profession. Trailing doesn't work!  Ian Maksik, "Professor of Service" travels this country with one goal in mind "Standardizing Table Service in America".  In this Jump-start, Marathon-training, Ian Maksik teaches the basics.  These street-smart how-to's and tricks-of-the-trade enhance the guest's service experience helping to turn neophyte plate-carriers into professional hospitality $alespersons on a 20% commission. (Tip$) Be taught by "The Best" to be "The Best"!  Our Waiter-In-A-Day Training is a 9-hour, one-day marathon session with 1-hour of breaks included or two, 5-hour sessions on two
consecutive days, with 1-hour of breaks included.  Sponsor Our Training Seminar On Your Campus.
<![if !supportEmptyParas]> <![endif]>
A minimum of thirty (30) Students are needed to run a Waiter-in-a Day Training Seminar on your campus. In most cases the Students attending pay for, the comfortably priced seminar tuition cost individually.  The sponsoring facility will receive a percentage of tuition monies back to cover expenses or may subsidize the entire training seminar for unlimited students.  The sponsor must supply an extensive list of equipment from the schools food vendor or hospitality school; AV equipment and reimbursement of travel expenses, hotel room and meals for the instructor. Our elaborate set-up requires a minimum of nine-hours.  A 70-page training manual is included. Students may send for a 346-question certification exam at an additional cost.
<![if !supportEmptyParas]> <![endif]>
CONTACT OUR COLLEGE TOUR DEPARTMENT at 954-804-5413 or ian@usawaiter.com or Fax: 954-748-3055 (Call First) or Write to: College Tour c/o Ian Maksik, "Professor of Service"
5430 NW 88th Avenue,Suite D-105, Lauderhill, Florida 33351
PARTNER WITH US ON THIS UNIQUE METHOD OF FINANCING COLLEGE TUITION